NEXT-LEVEL DIGITAL BANKING EXPERIENCE
We are serious about empowering you to bank when and where you want, continually evolving our banking experience and exceeding your expectations. This means new tools and improved technology that keeps you connected to your accounts and in control 24/7. The next big advancement is coming.
Beginning February 22, you will enjoy an innovative, personalized and consistent experience across all the technology you use to bank with us, from streamlined online account openings to intuitive mobile and online banking systems. Fewer logins to remember. More tools to shape your financial life. It is going to be a next-level experience.
NOTICE: Online and mobile banking systems will be temporarily unavailable beginning
Friday, February 19 at 5:00 p.m. CT through Monday, February 22 at 8:00 a.m. CT

Enhanced digital banking features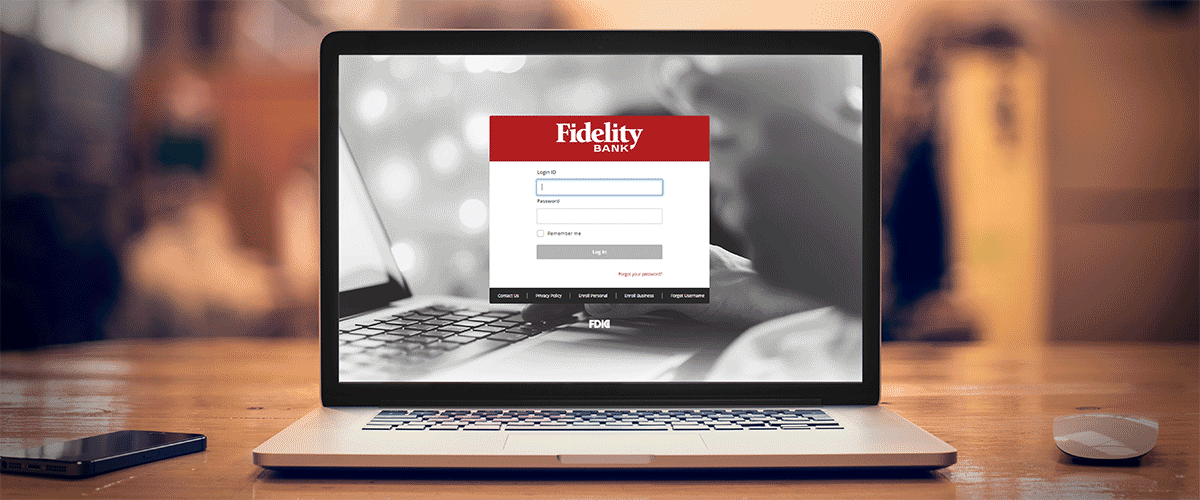 We're making it easier than ever to take control of your finances. The following are just a few of the enhanced features that will allow you to bank when and where it is most convenient.
Unified login structure. Access all of your Fidelity Bank accounts through a single login experience including mortgage and consumer loans.
Personalized homepage dashboard. Customize your account view and name your accounts for a tailored banking experience.
Link accounts. Easily view balance and account information from other financial institutions all through online banking.
Integrated online account opening. Open and fund a new Fidelity Bank checking or savings account from anywhere without having to visit a branch.
Streamlined online services payments.With Biller Direct, you can setup payments tied to your debit card for various online services (think Amazon, Netflix, Dollar Shave Club, etc.) all in one place.
Easily swap payment methods for online services. Card Swap allows you to swap payment methods for your online services in just a few clicks. So, if your debit card is lost, stolen or otherwise compromised, you can update multiple payments in one place.
Our new mobile banking app provides you the exact same experience and capabilities you will enjoy through online banking, now with separate, dedicated Fidelity Bank and Oklahoma Fidelity Bank apps.
Mobile check deposit. Deposit paper checks directly into your account using your smartphone camera.
Account monitoring. Check your latest account balance and search recent transactions by date, amount or check number.
Send and receive money. Zelle® makes it easy to send money to, or receive money from, people you trust – no matter where they bank.
Bill pay. Create and manage payees, schedule recurring or one-time payment, and review previously paid bills.
Transfer funds. Easily transfer cash between your accounts.
Locations. Find nearby branches and ATMs using your phone's built-in GPS. Additionally, you can search by zip code or address.
Secure access. Quickly access to your account through the verification of a passcode, fingerprint or face recognition.
Getting the new app will be easy.
Apple users will need to update the current Fidelity Bank app or, for Oklahoma Fidelity Bank customers, download the new Oklahoma Fidelity app through the Apple App Store. Android users will delete the existing app and download the new Fidelity Bank or Oklahoma Fidelity Bank app from Google Play.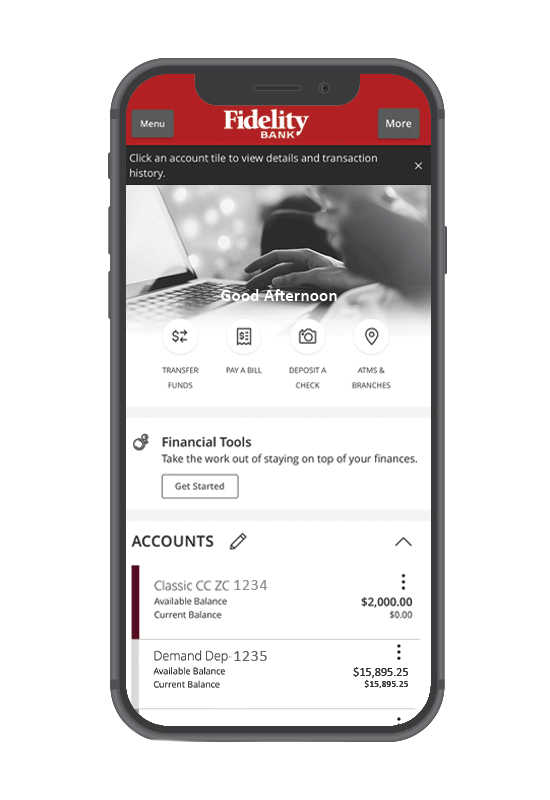 Important

system access interruptions
As we transition to our new online and mobile banking systems, access to the current platforms including online banking, mobile banking, bill pay and Zelle, will be temporarily unavailable beginning Friday, February 19 at 5:00 p.m. CT. We apologize for this inconvenience, but promise you'll like what you see when you log in Monday, February 22 at 8:00 a.m. CT.
Any scheduled money movement will transition to the new system eliminating the need to schedule new payments or transfers.
Contact us with questions.
We will be sharing information every step of the way, but if you have burning questions, please send them to onlinebanking@fidelitybank.com. Please do not include any personal financial information or account numbers in your message.