A BLEND OF TECHNOLOGY AND PERSONAL SERVICE
INTERACTIVE BANKING WITH EXTENDED BUSINESS HOURS
We've evolved banking to provide our customers with more. More options. Better service. As such, we are excited to introduce you to Interactive Banking.
While our Interactive Banking Machines may look like ATMs, they are so much more. Nearly all transactions that you can currently complete through a traditional drive-thru, or in the branch lobby, can be handled quickly and efficiently with Interactive Banking.
No more tubes and containers in the drive-thru. Instead, you connect via video screen with a highly trained Interactive Banker, who can handle a multitude of banking services with exemplary efficiency and customer service, including transfers, check cashing, loan payments, deposits, withdrawals and more.
BANKER'S HOURS AND THEN SOME.
With Interactive Banking, you'll enjoy extended drive-thru hours. No more rushing after work to make it to the bank. You'll be able to connect with a live Interactive Banker during the following extended hours:

Monday – Friday, 7:30 a.m. - 8:00 p.m.
Saturday, 9:00 a.m. - 5:00 p.m.
Interactive Banking Machines can also be used as ATMs 24 hours a day.
FAST AND EASY TO USE
Interactive Banking Machines are quite simple to use and transactions can be completed quickly. When connecting to Interactive Banking, you will be walked through the entire process with on-screen instructions and helpful direction from your live banker.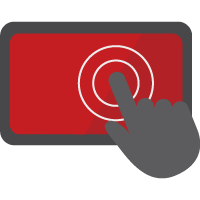 TO ACCESS AN INTERACTIVE BANKER
Touch anywhere on the screen to begin. During business hours, a live Interactive Banker will promptly answer to complete your transaction.
USING THE MACHINE AS AN ATM
Insert your card to access ATM features. Follow the on-screen prompts to complete your transaction. ATM service is available 24 hours a day.