Make the most of the equity in your home.
From home improvements to major purchases, you can access the funds you need by leveraging your home equity, either through a flexible line of credit or a fixed rate loan.
Home Equity Loans
A home equity loan is useful when you know the specific amount of money you need. With a home equity loan you can borrow one lump sum against the equity in your home, paying back the loan at a designated interest rate over a fixed period of time. With a home equity loan, you'll enjoy:
The convenience of a fixed monthly payment and interest rate
The opportunity to borrow up to 95% of your home's value.
Potential tax benefits through deducting interest paid (consult your tax advisor).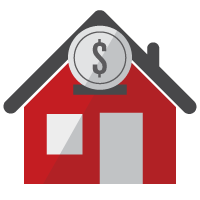 Home Equity Line of Credit
Turn the equity in your home into a flexible and convenient line of credit that allows you to access money when you need it, for any reason. Accessing your credit is as easy as writing a check and once you pay back your used credit, that money is available for you to use again without reapplying. With a home equity line of credit, you'll enjoy:
Easy access funds whenever you need them
A line of credit for up to 95% of your home's value
Potential tax benefits through deducting interest paid (consult your tax advisor).
No origination fees