Fidelity Bank adds Schwindaman and Hampton to board of directors
10/15/2019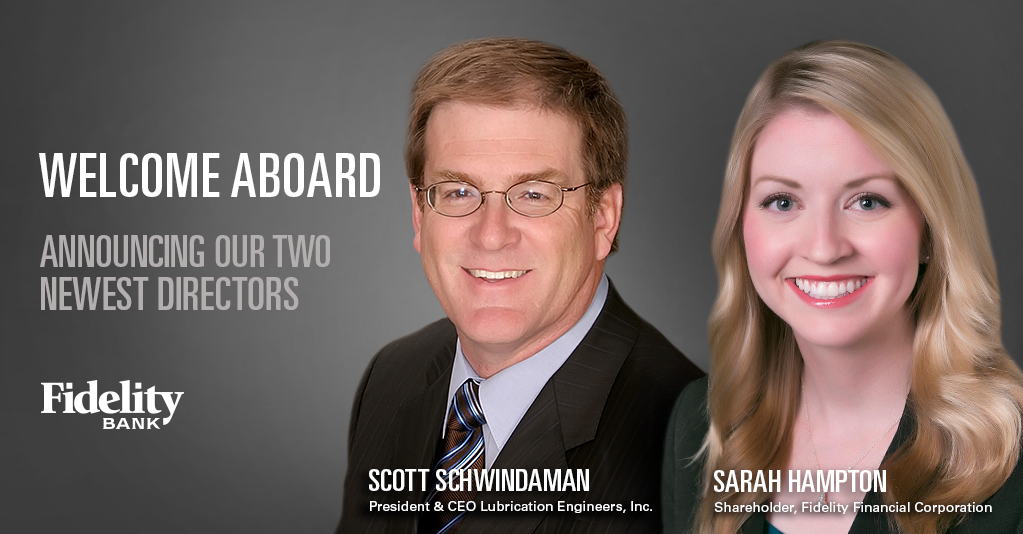 Scott Schwindaman and Sarah Hampton have been elected to serve on Fidelity Bank's board of directors. In this capacity, they will provide important governance to the fourth generation, family-owned financial institution with offices across Kansas and Oklahoma. Their terms officially began on September 18, 2019.
Schwindaman has served as president and chief executive officer of Lubrication Engineers, a manufacturer and international distributor of high-performance lubricants, since 2007. He oversees the work of more than 100 employees in the United States and a large network of independent distributors across the globe.
"Scott started as a lab technician in 1981 and through great initiative and hard work rose to the top leadership position at Lubrication Engineers, accelerating the growth of the company," said Clark Bastian, Fidelity Bank Chairman and Chief Executive Officer. "Those same qualities that have made his company successful will make him a valuable director with our bank."
Schwindaman's leadership has extended into the community where he has taken on complex volunteer roles including serving as the 2017 board chairman of the Wichita Regional Chamber of Commerce and founding the organization's Diversity & Inclusion Task Force. He is an executive board member of the Greater Wichita Partnership and served as co-chair of Project Wichita, a 10-year regional visioning initiative.
"For some, profitability in business and community investment are two separate things," said Schwindaman. "I've always believed that both are interconnected responsibilities. The people at Fidelity Bank, starting at the highest levels of executive leadership, hold this value and have made it a part of the company culture. That is exactly the type of organization I like to work with and that our city needs."
Hampton is a fourth-generation Bastian involved in the family business, and has worked in multiple divisions of Fidelity Bank, including corporate administration and community relations. She has also served as a past Fidelity Bank Foundation board member where she helped guide grant funding to arts, education, social services and community betterment organizations.
"Sarah's heart for community service and sound decision-making will be very valuable to our board," said Bastian. "She is a problem-solver by nature, with an extraordinary ability to think critically and build consensus."
Hampton is active in numerous service organizations. She is a founding member of Juliette's Pearls Leadership Society, an alumna of the Omega Phi Alpha service sorority and a volunteer with Dear Neighbor Ministries and StepStone. She is also a lifetime member of Girls Scouts of the USA and the Oklahoma State University Alumni Association.
"This is a family business in every way," said Hampton. "Not just in the ownership, but also in the family-like commitment that exists between employees and the manner in which customers are treated. Joining other board members in helping provide this dynamic company with guidance and oversight is a great honor."
With the addition of Schwindaman and Hampton, Fidelity Bank now has 13 directors.