Fidelity Bank honored as Outstanding Corporation by association of fundraising professionals
11/15/2019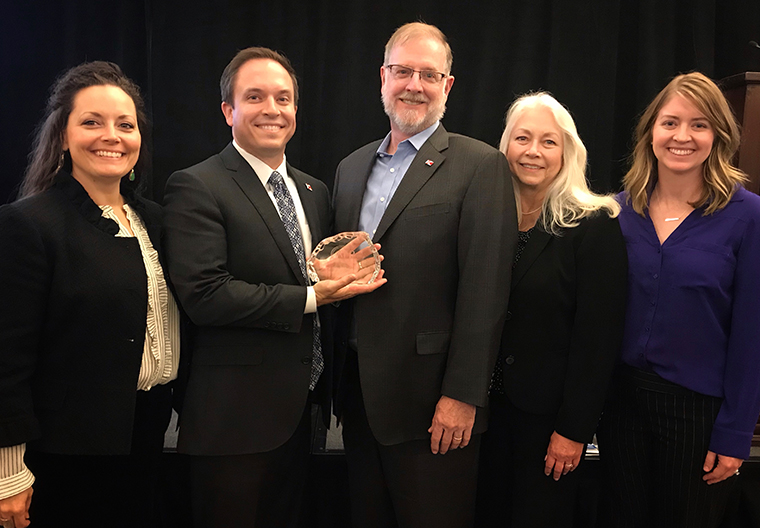 Fidelity Bank is the recipient of the Outstanding Corporation Award through the Wichita chapter of the Association of Fundraising Professionals.
Outstanding Corporation: Fidelity Bank/Fidelity Bank Foundation
By Josh Heck
The philanthropic numbers for Fidelity Bank and its foundation speak for themselves.
Those organizations contributed nearly $1.9 million combined to 65 organizations and causes in the Wichita area, Kansas City and Oklahoma City areas for fiscal years 2018 and 2019. Fidelity gives back in its three primary markets, but giving in Wichita typically accounts for the lion's share of the total.
Add to that nearly 18,000 volunteer hours employees contributed over the past two years. Fidelity allows its employees to take up to three days (24 hours) per year of paid time off for volunteer activities.

"At the core of our belief in giving back is that this is home," says Aaron Bastian, president of Fidelity Bank. "These are attitudes that were created by my grandpa and great grandpa."
Fidelity Bank, which is in its fourth generation of family leadership, is the 2019 recipient of the Outstanding Corporation Award through the Wichita chapter of the Association of Fundraising Professionals.

The organization and its foundation generally earmark about $1 million a year for charitable giving, but amounts can vary based on community need, Bastian says.

In April 2018, the bank announced a $1-million initiative aimed at advancing entrepreneurial activity and community betterment through local arts, education, human services and nonprofit organizations.

That came about two months after a $1-million combined pledge toward construction of a new business school at Wichita State University was made public.

Fidelity, like many donors, receives a plethora of requests for money every year. Bastian says his organization created a separate in-house division to track and manage corporate giving. That four-person team tracks how much is given and to which organizations. Fidelity also monitors requests it doesn't approve for future consideration.

Donation requests are made and tracked online to give Fidelity a standardized process.

"The philanthropic efforts that go on in the Wichita area wide ranging, and we're just proud to do our part," Bastian says.

And Fidelity often does more than just write a check. The organization regularly seeks ways to pair employee volunteer opportunities with a monetary contribution.

Take, for example, a home-repair program Fidelity helped Wichita Habitat for Humanity create. Fidelity funded the purchase of a truck and trailer, and dozens of employees also got involved to assist with making home repairs at Habitat homes locally.

Fidelity employees also are heavily involved with putting on a banquet in conjunction with the Special Olympics and working during The Arc Lights Christmas lights display for The Arc of Sedgwick County.

Dalton Black, director of membership for KMUW, says Fidelity employees help the public radio station's on-air fund drives by encouraging listeners to make a donation. Fidelity corporately provides matching funds for every dollar a listener donates.

The list goes on.

Black, who nominated the bank along with Exploration Place's Mandy Fowler and Amy Hopper, says Wichita is a better place thanks in part to the ongoing dedication of Fidelity and its employees.

"Their love and commitment to Wichita is unwavering, and I'm glad they are part of the fabric of our wonderful community," Black says.
The award is presented to a corporation that demonstrates outstanding commitment through financial support, executive/employee involvement, and the encouragement and motivation of others to take leadership roles toward philanthropy and community involvement.