garnes hired to lead inclusion initiatives at fidelity bank
2/16/2021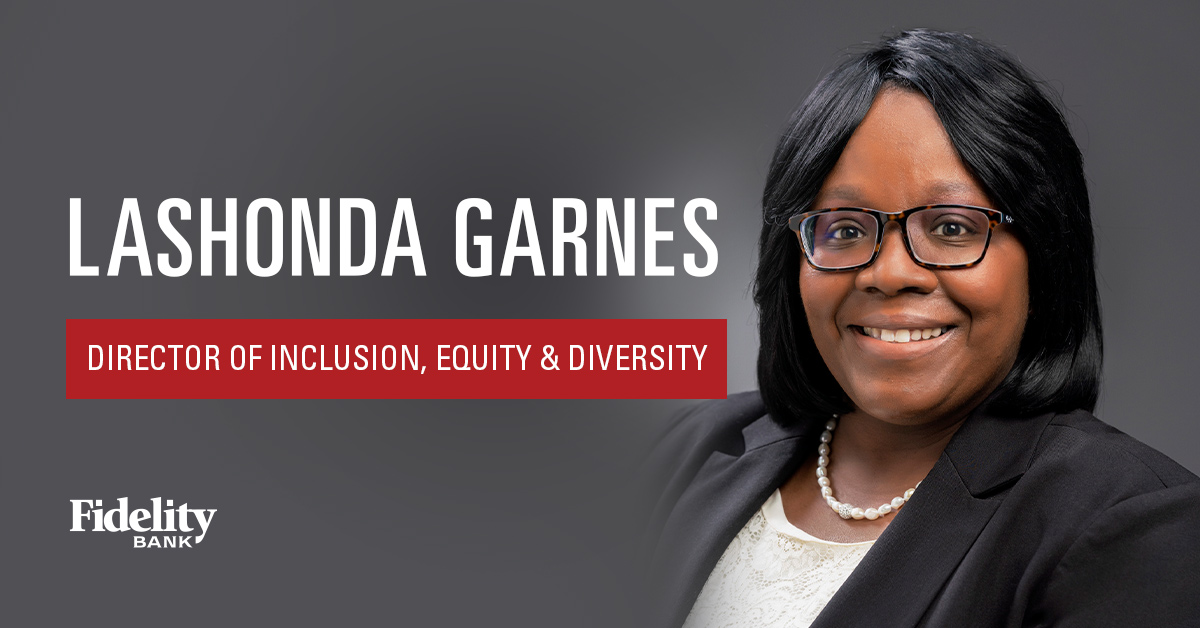 (WICHITA, KS) --- Fidelity Bank has announced the hiring of LaShonda Garnes, MPA, PMP as the director of inclusion, equity and diversity, a new role that will lead the long-term planning and execution of an enterprise-wide push toward fostering a culture of inclusion. The position falls under the oversight of The Office of Culture and Talent, a multi-faceted division that seeks to align departments that play a key role in shaping the internal work environment in line with the mission, vision and values of the Bank.
"We are a fourth generation, family-owned bank that committed to playing a meaningful role within the communities we serve," said Fidelity Bank President and Chief Executive Officer Aaron Bastian. "We believe that our differences are opportunities to learn from one another and broaden the understanding between neighbors of differing backgrounds. This compels us to conduct an honest examination of our own efforts to promote inclusivity through our internal and external policies. LaShonda has the skills and experience to help guide those efforts."
Most recently, Garnes served as a community development manager with the Public Policy and Management Center at Wichita State University, collaborating with nonprofits, government agencies and community leaders. Because her previous professional work includes more than 12 years in public service—including time spent with the City of Wichita—and nearly a decade in the banking industry, Garnes believes her new role provides the best of both worlds.
"This new role with Fidelity Bank feels like a natural progression of my career path. Growing up on the Southside of Chicago, social inequities pushed me to find better professional opportunities away from home, but I remain passionate about bringing all voices to the table and finding ways to create access to resources for underrepresented communities," said Garnes. "I was drawn to Fidelity because of its commitment to do the hard work. It convinced me that this isn't a knee jerk reaction to the social justice protests from last summer. They understand that the path to future growth relies upon a culture of inclusivity, equity and diversity, allowing us to recruit and retain the best talent to reinforce our culture-centric model of success."
The role of director of inclusion, equity and diversity is new to Fidelity. Its creation was the result of employee research led by Melissa Knoeber, Fidelity's director of culture and talent.
"Last year, we conducted a series of listening tours to evaluate our employees' perception of our culture. While we were pleased with the general response we received, we also identified opportunities for improvement," said Knoeber. "It became clear that if we were truly committed to making lasting change, we would need to carve out dedicated resources to achieve our goals. We are delighted that someone with LaShonda's industry knowledge and local experience has agreed to lead this ambitious effort."
Garnes began her role at the level of senior vice president on Tuesday, February 16.